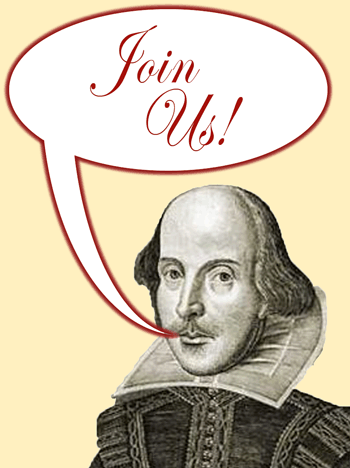 Questions and Answers
about the Shakespeare Club of Grafton
1. Do I have to join to attend?
We encourage interested people to attend our meetings to learn more about the Club. You'll find a warm welcome. If you decide you'd like to attend on a regular basis, that's when you should consider joining the Club.
2. Do I need to be a good actor, or a Shakespearean expert?
We don't act the plays, so acting skills are not needed. Many people join the Club knowing little about Shakespeare, but you will learn quite a bit by coming to our meetings.
3. Do I have to wear a costume?
No, we come dressed as we are – although we won't discourage you if you want to dress in costume for the meeting! We do have an annual event when many of us do dress in Elizabethan garb, which can be a lot of fun.
4. What are the membership requirements?
The only requirement is an interest in reading Shakespeare. Members are assessed a small annual membership fee (currently $20 each) to cover the Club's operating expenses.
We also ask that you attend meetings as often as possible. This allows our Casting Director to assign roles with some confidence that our readers will show up. At the start of each meeting, we reassign parts of those who were not able to attend.
5. Where and when does the SCoG meet?
Our meetings are typically on the second and fourth Mondays of each month from mid-September to April, starting at 7:30 pm, and are held at the Brigham Hill Community Barn, 37 Wheeler Rd., North Grafton. Our movie nights are held irregularly during the year.
6. Who "runs the show?"
Each year the members elect four officers who have volunteered to look after the Club's affairs for the coming year. Of course, we all try to pitch in to help out with event planning, play production and other activities as the year progresses.
7. Where can I get more information?